South Mississippi State Hospital has repeatedly earned The Joint Commission's Gold Seal of Approval® for Behavioral Healthcare Accreditation by demonstrating continuous compliance with its performance standards. The Gold Seal is a symbol of quality that reflects a health care organization's commitment to providing safe and quality patient care.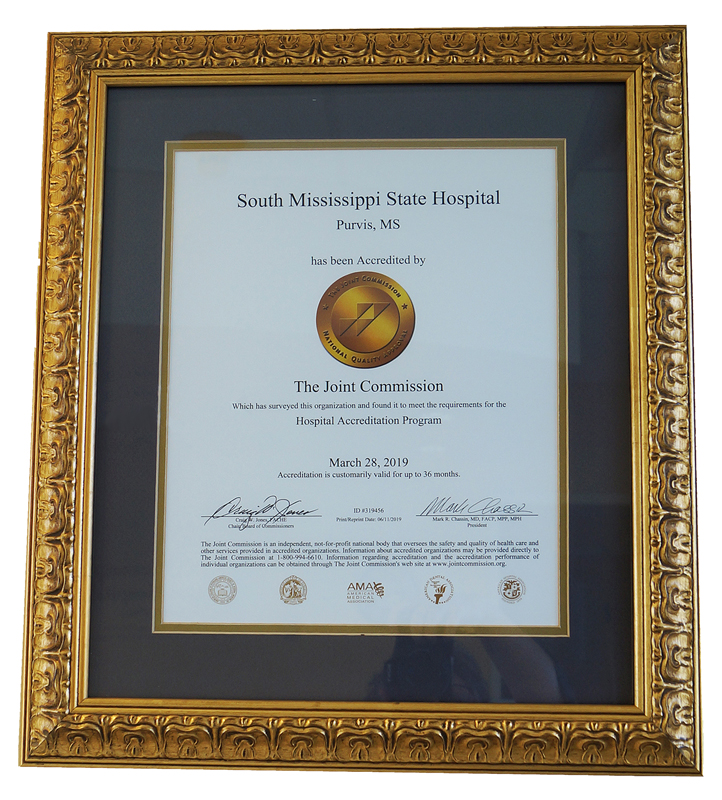 SMSH underwent a rigorous, unannounced on-site review March 25-27, 2019. During the visit, a team of Joint Commission reviewers evaluated compliance with behavioral healthcare standards spanning several areas including environment of care, infection prevention and control, leadership, medication management, and life safety, as well as other areas.
Surveyors complimented the hospital saying, "Your report is something to be celebrated. Staff has done a remarkable job."
In June, SMSH received an award letter accepting the hospital's plan of action and granting accreditation.
The Joint Commission's standards are developed in consultation with health care experts and providers, measurement experts and patients. They are informed by scientific literature and expert consensus to help health care organizations measure, assess and improve performance. The surveyors also conducted onsite observations and interviews.
"South Mississippi State Hospital operates in a continual 'performance improvement' mode," said Sabrina Young, the hospital's director. "Even though the survey is every three years, our staff works in a state of readiness to ensure that patients at SMSH receive the highest quality psychiatric care. We were extremely pleased with this survey and the professionals who came to review our processes, our leadership methods and our facility."
"As a private accreditor, The Joint Commission surveys health care organizations to protect the public by identifying deficiencies in care and working with those organizations to correct them as quickly and sustainably as possible," says Mark Pelletier, RN, MS, chief operating officer, Accreditation and Certification Operations, and chief nursing executive, The Joint Commission. "We commend South Mississippi State Hospital for its continuous quality improvement efforts in patient safety and quality of care."
South Mississippi State Hospital (SMSH) is a 50-bed acute care behavioral health program in Purvis that offers mental health treatment and services for adults in the southern part of the state.